Sandra Wärenhed | 2021-05-03
We are excited to announce that Orwak, as of today, will implement QR codes on our balers! It is a new and modern feature that will enhance the user experience and make it even simpler to operate the machine.
When scanning the QR code, the user will, based on the serial number of that specific machine, be presented with the right edition and language version of the operating manual and if available, links to short instruction videos. The videos take the user through the main steps of preparing and using the machine and how to strap and eject the bale.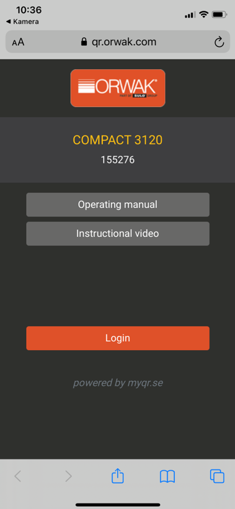 Scan this general (non-serial number based) code for 3120 to test the new QR feature!
The roll out of the new feature is gradual and will take place in the next couple of weeks. A QR code is implemented on every new machine produced in the Orwak factory from now on, but we have standard machines in stock and those will be delivered first, so do not be surprised if, depending on model, not all new units you receive in the short run have QR codes.
We hope that the introduction of the QR code on the balers will be helpful to your customers and facilitate your job when assisting them! It is a choice we made in line with our brand promises "safety at heart" and "advanced simplicity". The advanced Orwak systems shall always be safe and simple to use.
Contact us for more information about our Balers & Compactors!